The Kill Screen - Everything Not Saved Will Be Lost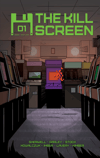 The world is nearing its Kill Screen, and now only the strong will survive...
The Kill Screen is a sci-fi/horror/thriller that explores what would happen to our world if it were infected by computer and computer game viruses. How would we survive?
With The Kill Screen - a technological disaster that will devastate the world - looming on the horizon, we follow a new group of characters as the world as we know it starts to fall apart. One pixel at a time…
(Patrons receive a 50% discount on all purchase - patreon.com/mikegarley)
---
"The Kill Screen presents a dark, frightening, and more importantly all too plausible
version of the near future. It's absolutely chilling."
- James Ferguson (Horror Talk)
"A dark, thrilling, and visually stunning, journey through digital infection."
- Susie Cumberland (Word of the Nerd)
"A timely reminder of why The Kill Screen is one of the most inventive and innovative comics on the indie/small press scene today."
- Alex Thomas (Pipedream Comics)
"Conspiracy theories, government goons and the dark net come crashing together
in Mike Garley and Joshua Sherwell's techcellent thriller, The Kill Screen."
- Olly MacNamee (Comicon.com)
"Fun characters and mysteries abound in this cleverly constructed and
visually stunning first instalment."
- Dan Cole (Intercomics Podcast)
"The exhilarating prelude to the 'A-pixel-ypse!"
- Mark Russell (A Place To Hang Your Cape)
9/10!
"Smart, intricate & heartfelt..."
- Gary Watson (Comics Anonymous)
---
70+ Pages
1 Player
Suggested for a mature audience
www.facebook.com/thekillscreen