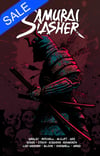 SALE - WAS £10.00
Softcover - Trade paper back version of the Samurai Slasher comic anthology. 56 Pages.
A mythical Samurai warrior goes on a killer rampage. Based on the 80s Slasher film that never was...
Featuring the four stories:
The Samurai Slasher - Based on the 80s movie that never was, we watch as a somewhat generic group of youths encounter the Samurai Slasher for the very first time on what was meant to be a sordid spring break getaway.
The Secret Origins of the Samurai Slasher - From his deathbed, an old man tells the nurse, who is standing vigil, about the legendary Samurai Slasher's origin and the part he played in his resurrection. We get to see the Samurai as he fights to defend a tiny village in feudal Japan.
The Exhibition of the Samurai Slasher - The Samurai is exhibited for the general public. It's not long before the Samurai breaks free from his display case 'prison' and gets vengeance against those who imprisoned him.
The Decimation of the Samurai Slasher - The Samurai's antics have caught the attention of the army who want to put an end to his menace once and for all.
(Patrons receive a 50% discount on all purchase - patreon.com/mikegarley)
---
"The Samurai Slasher Is a silly, fun, gory genre-exploration"
- Bleeding Cool
"Mike Garley has taken all your favourite 80's movies and then dropped in an unkillable zombie samurai slap bang into the middle of them."
- The Cultden
"Witty, stylish and a little dumb..."
- Inter-Comics Podcast
"The Samurai Slasher is a rip-roaring romp of a project"
- DOWNTHETUBES
Please note: This item is included within the Omnibus.